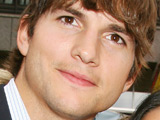 Ashton Kutcher has revealed that he is in talks with Justin Bieber for the 16-year-old to host a reboot of the MTV series Punk'd.

In an appearance on The Tonight Show with Jay Leno, the No Strings Attached actor insisted that nothing is final but that he will stay involved with the series and would love to see Bieber at the helm.

"I really can't talk about it because everything's sort of in process. It's a possibility that it could be happening," Kutcher explained.

"I will not be hosting the show in the future. People were afraid I was going to punk them wherever I went and I'm starting to get invited to stuff again and it's actually a good thing. I'll be involved in some capacity if we do it and there could be a new host but I can't say a whole lot."

Asked why he thinks Bieber has the potential to host the show, Kutcher said: "He's a nice kid and he's a funny kid - and people don't know he's a funny kid yet... and he's sneaky. And I like sneaky people."