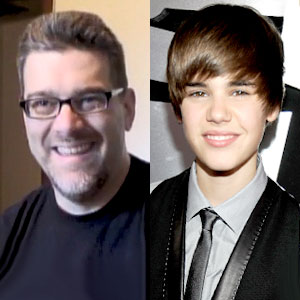 Will the real Justin Bieber please stand up?
Well, that depends on which Justin Bieber you mean.
There's the teen singing sensation, the one who's hounded by screaming girls, touring the world and rolling in dough.
But there's also the 35-year-old pinball whiz from Jacksonville, Fla., who can't maintain a Facebook account with that famous name because the site accuses him of being a fake.
And there's the small-town father of three who says his family was getting phone calls 24/7 from people—including girls who claimed to be Demi Lovato and Selena Gomez— who apparently think the Bieb might be hiding out in Bowdle, S.D.
"We'd come home and our voice box would be completely full of girls screaming or hang-ups," Bieber No. 3 told E! News recently. "So we ended up changing our phone number after 15 years of having it."
("Bieber!" We picture Stephen Colbert yelling that and shaking his fist.)
Florida Bieber is also inundated with unwanted attention. He tells E! that he gets tons of fan mail each day and had to unplug his phone because he was getting too many late-night calls. He's even been offered duet opportunities with some very famous singers.
"I started getting calls from Sony on my cell, then a call from a company wanting me to work with Lady Gaga. They said she wants to do a duet. I said she can call me, but it's not the right place."
A Sony honcho even rudely instructed him to change his name after realizing he reached the wrong Bieber, he says.
But the bespectacled Florida Bieber, an online tech support worker who keeps his hair far more closely cropped than his 16-year-old doppelgänger, just wants to be able to hang with his wife and hit the arcade in peace.
"It's pretty annoying," he says. "I first noticed it when my wife Googled the name and there were YouTube videos of Justin Bieber. Then about about a year and a half ago, teenagers started calling. At first it was cute and I'm like, 'Why are they trying to talk to me? Why would a 15-year-old have a house in Florida?' "
This Bieber's house phone has now been unplugged for the past two months.
He's also tried to contact Facebook in order to get reinstated, but has had no luck yet. After having an account for six months, it was suddenly disabled with no warning, seemingly just because he was born Justin Bieber.
About 21 years before Justin "Baby" Bieber was born.
"I can't reach anyone there," he says. "I've filled out forms, but they kicked me off due to 'using a fake name.' "
Wisely, his cellphone voice mail says, "You've reached me," lest anyone think they had actually found the singing sensation's number.
On the plus side, at least people now know the correct pronunciation of his name.
"Before, everyone said Justin Byber," he says.

E!Online